Our Mission
We are a Non-denominational pentacostal church dedicated to:
Reaching the unsaved with the Gospel of Jesus Christ.
Discipling new believers.
Training and equipping the saints for the work of the ministry (not only inside the church building, but outside in our respective communities) by helping them discover and identify their motivation gifts, ministries, and purpose in the Body of Christ
We are a I Corinthians 14:26 church, giving every believer the opportunity to participate in our service in any way the Holy Spirit chooses to use them.
We urge and encourage our body to seek God and come to church willing and ready to be used by Him for the purpose of comfort, exhortation, and edification.


Our Ministries (Local)
Supporting/working with local organizations to relieve the suffering of poverty and hunger in our immediate area.

International:
Philippines:
Bibles/Study Materials
Assessing/providing villagers medical needs
Providing medical equipment to a hospital.

Statement of Faith
We Believe:
The Bible is the Word of God, written under the inspiration of the Holy Spirit, and is the final authority in every area of our lives. There is one God, eternally existing in three persons;  God the Father, God the Son, and God the Holy Spirit.
That Jesus Christ was the only begotten Son of God and that He was born of the Virgin Mary.
That Jesus was made to be sin for us at His atoning death; and in His resurrection that He became the first begotten of the dead.
In the New Birth through faith by confessing Jesus as Lord and Savior according to Romans 10:9-10.
Being born again you are made the righteousness of God, II Cor. 5:21 and you have been made a new creation in Christ. II Cor. 5:17.
That Divine healing is a part of our redemption because mankind was redeemed from sin and sickness by the life, sacrificial death, burial, and resurrection of Jesus Christ. This redemption is received by faith. 1 Peter 2:24.
That prosperity is an integral part of the redemption plan of God through Jesus Christ and God wants all born again believers to be prosperous. 3 John 1:2, II Cor. 3:9.
That baptism of the Holy Ghost by evidence of speaking with other tongues is a second experience from the New Birth. Acts 2:4.
That receiving the Holy Spirit empowers the born again believer to be a living witness for Jesus Christ, doing all He did and greater. Acts 1:8, John 14:12.
That everyone in the Body of Christ is obligated to the heavenly vision of soul-winning. Mark 15:16-18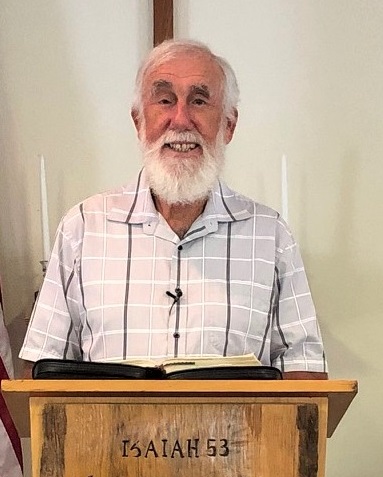 Rick Blaisdell
Pastor